Back To Our Services
Garage door springs are an important part of your automated systems at home, but unfortunately, they don't always get the attention that they deserve. Installed in pairs on opposite ends of the door, they are responsible for ensuring that it stays correctly balanced and remains secured to its frame, so that it remains seamlessly functional and safe to use by each of your family members. When they start to give trouble, faulty springs can lead to further damages being faced by your door, or worse, could pose a safety risk to your family and property. So, if you would like to ensure that your springs are operating as they should, be sure to contact one of our technicians for advice or information. Here's how we can help you:
Replacing Torsion and Extension Springs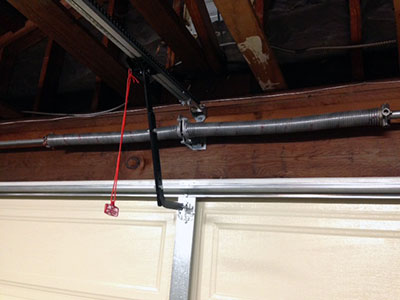 Whether your door makes use of torsion coil springs or overhead extension ones, you need to have them replaced whenever they start showing signs of trouble. When even a single spring fails, or either of them shows signs of rust or stress marks, you should make it a priority to have them replaced as soon as possible to avoid further damages should they fail. Speak to us for assistance with this.
Garage Door Spring Maintenance
Our technicians can help you to ensure that your springs are in good condition by inspecting them thoroughly and providing you with garage door spring maintenance where it is needed. Properly maintaining your springs will extend their lifespan and functionality, so if you wish to avoid costly replacements and repairs at a later stage, speak with us about having your springs maintained by a professional technician.
Repairing Broken Springs
When your springs start showing signs of damages from stress such as cracks or warping, it could be a sign that they are about to fail. Let us assist you with catching them in time and restoring their condition if possible, and you might avoid the need for expensive replacements. So instead of letting a broken garage door spring put your system at risk, have one of our technicians repair it for you.
Stronger Springs for Better Performance
Heavy duty doors, weighty ones and those with especially high demands can take their toll on springs over time, which is why many automatic door owners prefer to opt for a sturdier solution. If you are finding that your springs just aren't lasting as long as you would like them to, speak to our technicians about having a set of galvanized garage door torsion springs installed to your door.
Give Garage Door Repair Verona a call today and speak with one of our consultants for more information on our garage door spring installation, maintenance, replacement and repair services, or ask us for advice on your system.
Back To Our Services